Your Career at Southeastern Tank
Build your career.
Travel the southeastern United States.
Work with a team that's always got your back.
Become a tank erector.

At Southeastern Tank, we're always in search of quality field personnel who aren't afraid to roll up their sleeves to help us deliver quality tanks to American businesses and municipalities.
We Take Our Crews Across the Southeast
Working in the Southeastern Tank construction crew is a travel position. As a tank erector, you will travel to job sites in: Tennessee, Georgia, Alabama, Mississippi, Louisiana, and Kentucky.
The construction crew normally leaves the shop around 6 a.m. on Monday and returns Friday. Occasionally, the crew will remain on a jobsite out of town for up to two weeks. The job sites vary from project to project and can sometimes be situated in remote locations.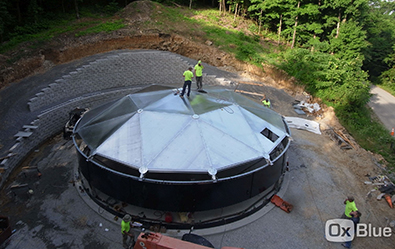 We Take Care of Our Own
At Southeastern Tank, we believe in looking after our own. That's why we're proud to offer benefits and programs that keep our workers well.
Health Insurance: SET is proud to offer health insurance through Blue Cross Blue Shield of Tennessee. We cover 90% of the premium, so that our employees are only responsible for 10%.
Supplemental Policies: In addition, we offer other optional coverage through these quality providers: Delta Dental, Assurant, Aflac, Colonial, and Blue Cross Vision.
Life Insurance: At Southeastern Tank we provide everyone with a $25,000 life insurance policy, at no cost to the employee.
Benefits: Southeastern Tank employees are eligible for all benefits once a 60 day probationary period has been successfully completed.
Optional 401k Plan: Employees may participate in once they have been with the company for six months. We match the employee's contribution 1% up to the first 4% contributed.
Employee Training Program: We reward employees for working with us long-term and contributing to the company's success.
We Take Our Work Seriously
Is becoming a Tank Erector at SET right for you? We're looking for dedicated and reliable workers who meet our values and want to build long-term careers in a proudly American company.
Our construction crew positions require physical labor at tank project sites. Part of the work includes:
Operating a variety of hand and power tools
Cleaning and preparing sites
Settings forms
Assembling bolted steel tanks
Cleaning up rubble and debris
Removing waste material in a safe and timely manner
Construction experience is preferred, but not mandatory, to become part of the SET crew. Welding experience is not required. We gladly welcome candidates with a military or service background.
Mandatory Requirements



Able to perform work at ground level and elevated heights